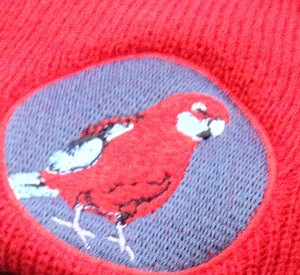 Rozelle's high street is turning it on for Christmas in July with a festive feast of local dining, shopping and yuletide experiences on offer.
More information on the  Rozelle Christmas in July festivities will become available via Rozelle Fest Facebook posts and on the events section of this website.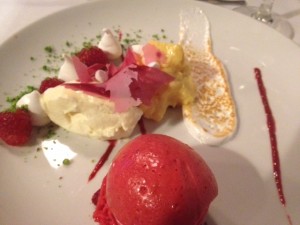 Leichhardt Council has thrown its weight behind the annual celebrations which are even more important this year for the suburb with local businesses still recovering from the Sept 2014 Darling Street explosion.
Our Christmas in July 2015 festivities are a wonderful opportunity to celebrate the special warmth of our community and support some amazing local businesses.
We have a surprising number of 'destination' businesses such as Belle Fleur Chocolates, The Essential Ingredient, Herbies Spices and more.  We also have a main street filled with award winning  small and charming boutiques, cafes and bars with unique and special offerings who've been recognized widely in blogs and media features.  And of course, we have several great pubs, made all the more interesting with our Christmas in July theme.
Thanks to Leichhardt Council, the festive lights are out  and Rozelle Square is looking light and bright!   It's the perfect opportunity to make the most of the cold weather and have a Cool Yule in Rozelle while taking advantage of some fabulous deals and sales with Christmas being about giving.
There's already amazing support for our Rozelle Pass it On cards which help spread the traditional kindness and care of Christmas.   Rozelle Rosella beanies are available from Tali Gallery for just $20 with proceeds helping to fund the local Christmas in July celebrations – 667 Darling Street, near Victoria Road on the peninsular side, near Rozelle markets/Rozelle Public School.  You can pick up some Pass it On cards  when you collect your beanie!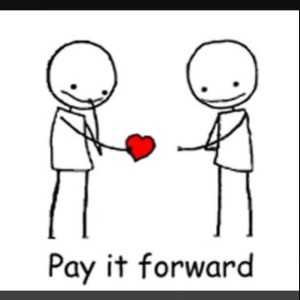 Come and join in the Christmas in July festivities including:
An incredible 24th July Christmas Italian Fiesta at Osteria on Darling with prosecco on arrival, a 5 course dinner and Christmas surprises for $80 per person (bookings on 9555 5418)   There are other great Feasting opportunities throughout Rozelle during July – they're not entirely traditional anglo saxon – we're a bit adventurous here – we love our food!
                   
Winter Warmth Christmas in July at Penny Lane http://pennylanebar.com with kids eating free every evening from Wednesday to Saturday – but don't think it's just spaghetti bolognese – how does oven roasted rack of lamb and char grilled spatchcock sound?   And they have a very impressive and vast wine list!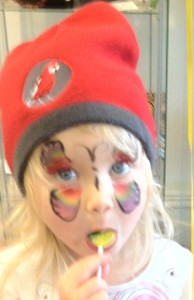 Divine Sticky Date Pudding Chocolates and flowing hot, rich, dark molten drinking chocolate at Belle Fleur
A cornucopia of delights at Piccolo's Café incuding white hot chocolate, Rudolf cup cakes and Christmas rocky road, as well as a lucky dip of little prizes for the kids.
The opportunity to win a set of spectacular Ayala Bar earrings with every purchase from Bella Emporio during July going into the draw.  Other boutiques also have giveaways with purchases or also offer opportunities for prizes. Keep an eye on Facebook and the Events page!
Snowflake Facepainting and Balloon Twisting on the highlight Christmas weekend of 24th – 26th July – and watch out for some cheeky elves!  Our carollers will be coming out too!   And I've heard there might be some free popcorn!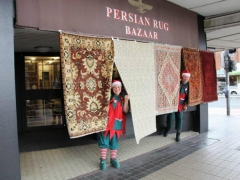 More detailed information on the  Rozelle Christmas in July festivities with specific dates and times will become available via Rozelle Fest Facebook posts and on the events section of this website.
We're a multi-cultural and diverse community so our offerings will extend to specialised menu offerings from our Thai, Indian and other restaurants too!    Of course, it's also Bastille Day on the 14th.  The Essential Ingredient Rozelle is having a special event on July 7, and La Grande Bouffe has a special dinner on July 14.
No excuses – we've got all bases covered!!!!   LOL
A BIG THANKS FROM ROZELLE TO LEICHHARDT COUNCIL FOR THE LIGHTING AND STREET ENTERAINMENT, AND LOCAL RESIDENT AND PROFESSIONAL:
LJ (Liza-Jayne) Loch | DIRECTOR
BBusComm MCommLaw
REPUBLIC Consulting
Suite 202 | The Cooperage
56 Bowman Street | Pyrmont NSW 2009
T +612 9640 0900 | F +612 9640 0999 | ✆ +61(0) 439 633 429 ljloch@republic.net.au  @ljLoch
reputation management|investor relations|government relations|stakeholder
engagement|corporate communications|crisis communications