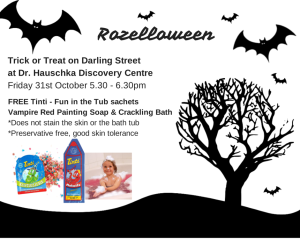 Over 100 businesses are gearing up for Trick or Treat on Darling Street on 31st October with decorations and treats for the children!
Children can Trick or Treat their way along the street from 5.30 to 6.30pm.
Quirkee Birds will hand out lolly pops to children who tell them a joke.
Dr. Hauschka Discovery Centre will have a Tinti table and free samples to give out to visitors to their space.
A Dog Parade will be held with assembly at 5.15pm outside Tali Gallery in Rozelle with prizes kindly donated by local Balmain Veterinary Clinic located in Rozelle.
Moggie owners can photograph their felines in Rozelloween regalia for prizes also kindly donated by the Balmain Veterinary Clinic located in Rozelle.
Adults can find everything they need to look the part from our various boutiques and shops on the strip; and have dinner and fun afterwards at the bars, pubs, clubs, restaurants and cafes in our Rozelle!
Look at the Events Page on this website for further information – or keep up with what's happening on the Rozelle Fest Facebook Page!